Supra Clear Armor.
Composition
Supra Clear Armor® is a patented system of catalyst activated "isomeric" polymers which have been solubilized in specially denatured ethyl/isopropyl alcohol. This system yields a hydrophobic monomolecular coating that is chemically and physically bonded to glass to make the surface virtually unable to become or hold moisture. The broad-spectrum multifunctional invisible coating exhibits "synergistic" surface activity against weathering and the entire range of air and water-borne pollutants.
Advantages
Supra Clear Armor® combines exceptional multi-surface versatility with single-product convenience. It is effective on all types of glass! The novel structure permits it to bond to a surface, but not to itself. Accordingly, unlike other coatings, it is not subject to build-up and acts as an integral part of the treated surface. Supra Clear Armor® incorporates unparalleled application and performance characteristics. It is ready to use and requires no mixing or dilution. Being a wipe-on treatment, it offers both ease and flexibility of application. It is extremely fast acting and non-dusting; contains no waxes, plastics or resins. The film is optically clear, non distorting, non-reflective and does not change the index of refraction. The non-reactive polymeric structure will not peel, crack or discolor; it is unaffected by soaps, solvents or detergents. With its low cost, remarkable coverage, durability and performance.
It offers outstanding economic benefits.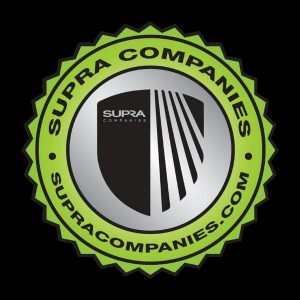 Uses 
By virtue of its unique ability to strikingly alter the surface characteristics of glass for improved interior and exterior performance, Supra Clear Armor® permits the practice of preventative cleaning and maintenance as well as surface protection and durability. By treating glass to actively repel water, re-direct environmental debris and restrict the adhesion and build-up of all foreign matter, it can be washed with clear water or common wash solutions without the use of abrasives and strong acids or alkalis. It prevents vision distortion and provides a unique hydrodynamic rinsing action by effectively causing water to "bead" and roll off, instead of filming on the surface. With its friction reducing/anti-stick properties, Supra Clear Armor® is both an Anti-Scratch Conditioner and a Non-Stick Coating. It imparts a high degree of electrostatic reducing surface lubricity for improved abrasion resistance, strength, restored clarity and reduced affinity for soiling and staining. Additionally, glass looks better, stays cleaner and is infinitely easier to wash or wipe off!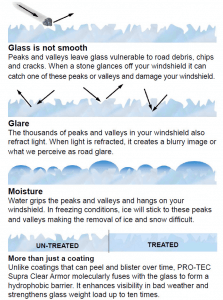 Clear Armor Product lines
Clear Armor Original – The Original Tuff Stuff!
We've got you covered with this one!
This bottled liquid product ensures that the surface you are coating receives a HEAVY and THOROUGH saturation; this is achieved through its double application process.  If you want a product with high protective and performance properties, strong hydrophobic values, improved optical clarity and enhanced glass performance, this is the Premier Product line for you! When looking through their treated glass some of our Customers say it's like wearing their glasses without actually wearing their glasses, yikes? (Our Lawyer says, Supra Canada claims no such corrective lens viewing properties are in any of the products we sell and we will not be held liable for any accidents caused by drivers not wearing their glasses.)
Click here to find out more or to order.
Supra X

It's like Malcolm X, impactful, resilient and brilliant. This conveniently packaged Nano Towelette is for thorough, effective, single coating applications. Large enclosed cloth with good product saturation allows for a thorough single coating on your glass, its protective and hydrophobic properties are in line with what you're looking for if you are experiencing moderate exposure to road debris and environmental contaminates. Enjoy the difference it makes!
Supra X is also used to Support the maintenance of Clear Armor Original, the Tuff Stuff.
Click here to find out more or to order.
Supra Extreme Rain
Want to tilt the "recipe" a little? Some protective qualities with a slightly heightened hydrophobicity? Do you live in a region that is exposed to rainy seasons and wet snow? Extreme Rain is delivering the perfect blend of properties for coastal regions or seasonal performance in any Canadian Region. Its convenient Nano Towelette Packaging has an effective single coating application. One large enclosed cloth with good product saturation allows for a thorough single coating on your glass, its protective and hydrophobic properties remain active for those who experience minimal exposer to road debris.
This is much more than a hydrophobic product! Extreme Rain promises it will help protect your glass and improve functional and optical performance!!
Click here to find out more or to order.
Supra BOOST

A superb temporary hydrophobic solution! Keep one (or 10) in your glove compartment for that day when the rain exceeds your wiper blade capacity. Delivered to you in a convenient affordable towelette package, its quick, its easy, its effective! Tear open, wipe onto you glass surface and wipe off, takes just a few minutes. Excellent for that road trip to minimize the agony of removing those nasty spatters of an insect's final destination.
Use it to help aid other Clear Armor applications.
Try it on the bottom of your boat to make cleaning off that water scum easier!
Click here to find out more or to order.
Supra Reload
Bottled nectar! This convenient bottle is filled with ready to go hydrophobic spray applications, great to jazz up your window when cleaning to aid in maintaining your protective coating, it helps rejuvenate the activity of your select coating. It's also great for around the house cleaning: mirrors, glass partitions, deck railing and more. This is an affordable and versatile cleaning aid with beneficial temporary properties to make next time cleaning even easier.
Click here to find out more or to order.
Supra Cleaner
Stains on glass are often difficult to fully remove, especially if they have built up over months or years. This specially formulated and proprietary cleaner will "dig" out the mineral stains and grime that are set deep into the peeks and valleys of your glass surface leaving it beautiful and clean once again. This is a great and highly recommended step to prepping your glass prior to sealing it with your selected coating barrier.
Click here to find out more or to order.
Environmentally Friendly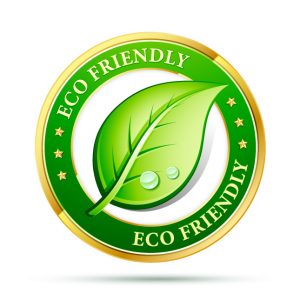 Yes we are. We are proud to contribute to a greener, less toxic environment. No more harsh cleaners seeping into our ground soil or ground water, we offer smart, sustainable, zero emission and safe alternatives to our Customers. We can offer products that have the highest Green Standards.
Retail and Business opportunities: Would you like to carry our products on your shelf in a retail environment? Would you like to offer our products as a service or sales enhancer to your current offerings? If either or both are of interest to you, or if you would like to talk about how to become a Distributor, please drop us a line and we will be sure to get back to you and discuss how we can best serve your needs.